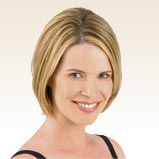 Jennifer has over 20 years of experience in the mind/body field. She began her formal Pilates training in Los Angeles at Performing Arts Physical Therapy under the direction of Melinda Bryan (certified and ordained by 1st generation Pilates Master Romana Kryzanowska).  Jennifer's training during these years included workshops, testing and continuing education seminars with Romana Kryzanowska as well as other Classical Pilates greats like Siri Darma, Jillian Hessel and Jay Grimes. Jennifer taught with Jay Grimes at PAPT for 2 years and took over his clientele when he left which was a very high honor for such a young teacher.
Jennifer is immensely grateful for her early training and foundation in Classical Pilates, but knew there was more to discover. She completed two more Comprehensive Professional Pilates Certifications. The first was with PhysicalMind Institute where she had the honor of studying with renowned movement therapist Marika Molnar.
Next Jennifer studied with Marie Jose Blom of Long Beach Dance Conditioning. This phase of Jennifer's study would prove to be a life changing experience, and Marie Jose continues to mentor and inspire Jennifer's work to this day.
Jennifer was chosen to be one of the first Master Teacher Trainers in the United States by Balanced Body in 2007.  Jennifer brings her own style and passion to the Balanced Body program and many students chose Balanced Body in order to work with her.
Jennifer discovered her passion for Pilates for pre & post natal women when she was pregnant with her first child which sparked the creation of her own method in 2001 and has been honing it ever since.  She has presented her Fusion Fusion Pilates Pre & Post Natal Teacher Training program around the world since 2003 – from the United States to Japan to Russia and more…
Jennifer is the owner and director of Fusion Pilates DVD's, which specialize in DVD programs for women's fitness. Jennifer released her original Pre & Post Pregnancy series in 2001,  two  DVD's  for the Pilates Professional in 2009, and a Pilates Birth Ball series in 2011.
Jennifer is based in Asheville, NC at her Fusion studio, but travels to present her courses across the country and around the world.